Letters From Brian, Our previous Minister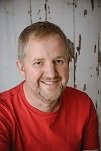 Recent copies of the letters from our previous Minister Brian. These are reproduced from the monthly Newsletter..
June 2020:From Our Minister's Isolation
How are you getting on in isolation? Have you mastered social media or produced bread that would make Paul Hollywood smile? I have made reasonable strides with Windows 10 (a supposedly better way of making computers work). I would not have had it if the previous laptop had not failed. The replacement of course like all new computers has the new system. Anyway its made me reflect on being impatient; even with machinery.
Perhaps lock-down has brought out the less cuddly side in a number of us. On Sunday I heard someone talking about the monastic life and it was so interesting I went back and listened to the whole package. They had produced material and short films for managing each day. I did know the general running order for many monastic communities, but the speaker was talking into our current 'sentence'. As someone who lived the life he sounded remarkably chilled and he made the point that this could help both believers and those who didn't value faith
The speaker suggested the following pattern for each day.
The day should
start
with thanks and grace. Be grateful for a new day; for positive observations of your day and life. Praise God for friends and of course for family if you have such. Ask for their blessing and well-being.
It is a good foundation and thanks giving is a helpful pastime that lifts the spirit.
Midday
reset the clock (not literally), change your task, position; if possible location- (step outside). Have some food and rest. Do something different with the afternoon and set and honour a finishing time.
Actually I found this one hard because often I have not completed a task and so midday becomes 2.30. On the time it has worked it has proved helpful
The
close
of day. Take time to note times you felt close to God and praise him. Note also those times when God was distant because we moved away from him. Ask for forgiveness but reflect on why you withdrew from what he would have wanted. Hold before God those who have irritated you and how such a situation may be restored and prevented from reoccurring.
Be grateful for rest and sleep.
It is a discipline and Methodists used to be known for discipline, the three sections above do not take a great deal of time. I have followed them this week afresh and found benefit. The question of closeness and distance to God has been particularly helpful rather than just thinking 'I failed'.
Jesus withdrew on occasions to pray. His teaching on the Lord's Prayer gave a call of thanksgiving, direction, forgiveness, provision and eternity. Jesus urged us to spend time on our own to pray. Using the three periods above may make prayer more fulfilling and positive about the day even in times of challenge
I suppose the question for all of us about the lock-down is simple. Did we do something new with our time.
If you would like to look at the material in more depth use www.alonetogether.org.uk then click on shaping the day. Apologies to those not on line. I know some of you did decide to give the internet a go and I am sure you will find it useful. It will teach much about patience, said he hating Window 10.
'Shaping the day' is important. It builds a pathway for gratitude, for not wasting the day on one task that drains any sense of joy and at the end asks us to see our walk with God as a journey you value and are willing to invest in seriously.
Well I am off, its lunchtime and I've finished the task I set.
Best wishes
Brian
From Our Previous Minister, Brian
Perhaps lock-down has brought out the less cuddly side in a number of us?