Letters From Brian, Our previous Minister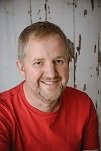 Recent copies of the letters from our previous Minister Brian. These are reproduced from the monthly Newsletter..
July 2020:From Our Minister's NEW Hideout


I moved holiday cottages two weeks ago. I soon had a visit from the Police to see if I was second homing or worse a tourist thanks to Dominic Cummings ( no, the moment has passed to write about that). The Police were great and understood my reason for being here. I later spoke with the Council and they too agreed not to pack my bags. Both agencies said they had been kept very busy by such work and it had been a trying time in both organisations. I more than understand and forgive whoever reported the matter. Anyway, that's not my subject for this month.

I am guilty of overusing one verse of scripture, having said that it is right for so many occasions. The bible verse in question is 'No one can serve two masters. Either you will hate the one and love the other, or you will be devoted to the one and despise the other. You cannot serve both ...' (Luke 16:13 and Matthew 6.) the context is serving God or serving money but it is an invitation to have clarity in what you are working towards. Everyone has to be clear in what they are trying to achieve.

This is the third attempt of writing this article which is very unusual for me but the ground kept shifting and different things came into focus and the other attempts were too long and lacked clarity. So here goes with take four.

A big and tragic story provided a range of responses. In no time the spotlight on the matter was being asked to shine in several direction When in fact the first incident commanded everyone's attention. Let me explain from the last couple of days working back to the main event.

The BBC withdrew and banned an episode of Faulty Tower called 'The Germans'. Germany and Austrian channels actually bought both series a few years after they first aired. The episode is now banned on the grounds of race and because young people may not know the context. Would someone please hide 'Dads' Army' and 'Allo, Allo'. 'Faulty Towers' was written in 1975 and made huge sums of money for the Corporation. It has had virtually no complaints over the years. A number of other shows on other networks are being binned for similar reasons, but you probably have not heard of them and I have only seen one of them.

The above came about because HBO (on demand TV from the States) banned 'Gone With The Wind' made in 1939 saying its depiction of racism was a product of the time not suitable then, and not now. From the opening night that film was not well regarded by African Americans with images of happy slaves and kindly plantation owners. It was a long way from the truth. The bright young things at HBO probably didn't know Hattie McDaniel was the first African American to win an Oscar for playing the house servant, Mammy. They certainly wouldn't know she was seated at the back of the room by the kitchens with a chaperone and only allowed in when the nominations were read for supporting actress. She did have the last laugh, however. She bought a mansion in the midst of all the homes of the big stars, (property prices tumbled). She had jazz parties into the night with many friends joining her. The banning of the film sent Networks racing to the archives. It was something they didn't consider for other situations. It begs a question. Do we clear out everything that was a product of its time or problematic? Should we clear the shelves of actors or directors who were found to have been a little too colourful in their private life.

And the two sideshows above were led by a further incident which set off a chain of these distractions. Edward Colston was a philanthropist, merchant, slave trader and MP. He provided a number of facilities in the city of Bristol including a large concert hall and a school. They are in the process of renaming the hall which bore his name after a lot of debate over his links with the slave trade. The hall is not that easy to get rid of and just about everyone in the area has been in at some point There has been much debate about the statue over the years but each time its gone out for consultation it has been kept to remind people of the past, Colston having been 'immortalised' in copper reminded people of a past that casts a long shadow over the city events made another light on darkness fade elsewhere. Those who had failed to shift the man from his perch over many years hijacked proceedings and rolled the statue to the harbour and threw him in. Many statues haven now been earmarked, smashed or vandalised from the Public Square and in American Confederate flags and statues have been torn down and airbases set for renaming.

The events in America of the police arresting and killing a black man, George Floyd, has brought international protest: even to the Isles of Scilly. A number of States are now thinking to replace the Police Forces in their jurisdiction. Even 'New York's Finest' are for the chop after a not particularly fine moment when they floored a 70-year-old pensioner and a number of them walked by his lifeless body. The man was protesting against Floyd's death. This added to the American view that feral police officers were not fit for purpose. An awful lot of people died before America came to that conclusion, they still have not embraced gun control and other violent methods of living in the country. This event has brought revulsion that was spared from many other victims. It is a seminal moment in grasping the inequalities faced by Black, Coloured, Asian, Hispanic minorities. So many people have realised the poor interface with Law, Health, Education, Housing Etc. The fears and abuse faced by such people has become visible and has moved many to speak up. Here in the UK and elsewhere Covid-19 has had a far greater attack on these vulnerable groups than other strands of the population. Health workers from these minorities have also paid the highest price in treating all of us; and they did not abandon their posts even when their mortality was assured by doing this work. Last week it was the third anniversary of the Grenfell Fire. A tower block where so many minority groups lived and died despite their calls for action to prevent a disaster. All lives matter. Equality is a focus all should uphold.

I wonder how many of those in Bristol removing the statue would have been able to name the victim who so many came to remember, could they name the town where George Floyd died.

Those who have set to disposing of the past have rather stolen the focus on what happened in the present to Mr Floyd. We need to be reminded of what went before for those in slavery and those who built their world on the misery and suffering of others. There is a time and place for such reflection. I hope that out of Mr Floyds death real good comes. The World has been moved, something that didn't happen for so many others.

The antics and tokenism of a few have robbed this dreadful event of some of its exposure. The killing of another black man at the weekend at the hands of police officers already demonstrates the moment has not lasted long enough to bring change to a broken system. Drowning Statues and banning films and comedy programmes will not save lives.

In our life and in our faith, clarity is hard to keep when serving God. Distraction is the scourge of modern life. Perhaps we need those statues to imperfect people to remind us it's so easy to live a life and boast about achievement not realising we accept too readily what God did not intend for our life. No one can serve two masters. Who or what are you serving this year?

Pray that change comes for those who live without justice and equity.

Every Blessing

Brian
From Our Previous Minister, Brian
I am guilty of overusing one verse of scripture ...