Letters From Brian, Our previous Minister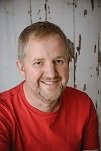 Recent copies of the letters from our previous Minister Brian. These are reproduced from the monthly Newsletter..
May 2020:From Our Minister's Hideout

Well you turn your back for two minutes…

I could not have imagined all that was about to happen when I went off on Sabbatical. I could not have dreamt how life would change across the nations or the uncertainties we now face. After all the ups and downs and bad blood over Brexit it seemed hard for people to come together, but they have. There are some truly remarkable stories, tales to lift the soul and brief glimpses of the truly wonderful people who have been lost to this disease. Even the Media has embraced 'good news slots,' where stories about brilliant postmen; money raising pensioners and great kindness has been given a spotlight in dark times. I really hope it lasts when the pandemic slithers off into history.

We are living through unparalleled times. And it calls for unparalleled prayer and faith which is to be lived openly and shared. Problem is we are currently unable to meet for worship; social distancing is in force. I like many of you are members of the 'self isolating society' (remember the Italian Job with Michael Caine?).

So, it's not the easiest of times to say look here is God in the midst of everything and he is wonderful. He is and He is; if you get my drift. We can bring something to the community at this time. It is a good time to show we care for others. I asked Jill Dixon, our Secretary, to write on behalf of the Church to a number of businesses, Surgery etc saying they are in our thoughts and prayers. She also flagged up to some our awareness of the abuse they have had from customers. I have had expressions of gratitude from for these cards and I have also spoken to a number of businesses in the Chamber of Commerce.

We should be aware of how many shops and organization are doing wonders for the community. A number of businesses' wasted no time in moving into 'meals on wheels'. People have been very resourceful. Even the Blood Bikers will bring your prescriptions round if you are lying low for the NHS.

People are coming through this difficult time. People are leaving hospital after treatment. Miracles are happening, but ever silver linings can find a cloud. Some of you may have read the story about the chap who survived the virus having been in ICU for many days and he praised God. He was interviewed by the BBC's Nick Robinson. The patient, a Christian said he felt Jesus close to him during his recovery; calming the storm as when the disciples were with Jesus on the lake. Robinson instead of smiling and saying something neutral (I always thought he was so sensible) immediately suggested the drugs used in the man's treatment caused this 'delusion'. It's funny how people can't wait to belittle faith. If the man had likened his experience to something from Shakespeare would that have left the man accused of being delusional by medication. Why such an attack on a patient's 'resurrection' and in Holy Week. I am sure the man did feel Christ close to him and settling the storm. God brings comfort often to those in life or those who are at their end.

Funnily enough throughout this lockdown I've thought of one hymn repeatedly 358 in Hymns and Psalms
O God, our help in ages past,
Our Hope For years to come,
Our shelter from the stormy blast,
And Our eternal home;
(Read the other verses as well)

Life is complicated, hard work, short; but also incredible. God is in the midst of it all and he cares deeply but what has come upon the world is not his fault. It's down to the world's most unsatisfactory tenants – us. Whether its poor hygiene in market places overseas or an allergy to hand washing, the virus spread. It was not afraid of flying and neither was the host of the disease (us). Airport authorities didn't screen apart from the first people who came from China. They were given full screening for two weeks and then we let everyone else rock up who wanted to without even a temperature test. Etc. All nations have struggled it's been enough to overwhelm everyone and it nearly claimed our own Prime Minster.
But God has strength and hope if read scripture and pray and witness. If we show community we care.
Psalm 23:1-6 For us

The Lord is my shepherd; I shall not want. He makes me lie down in green pastures. He leads me beside still waters. He restores my soul. He leads me in paths of righteousness for his name's sake. Even though I walk through the valley of the shadow of death, I will fear no evil, for you are with me; your rod and your staff, they comfort me. You prepare a table before me in the presence of my enemies; you anoint my head with oil; my cup overflows. ...
John 15:13 For our NHS and all Front line workers

Greater love has no one than this, that he/ she lay down their life for friends.

Pray for our country and community and bring encouragement to those who are feeling lost or forgotten. In the midst of fear, we are seeing greatness and love. Be people of courage and make a difference with Christ's love. Comfort those who mourn.

Best wishes

Brian
From Our Previous Minister, Brian
Life is complicated, hard work, short; but also incredible.