Ref:
Date:
Location:
Photographer:
From Our Minister's Work Station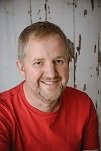 Recent copies of the minsters letters from our Minister Brian.
...more
27/02/16 From the Minister's ...
There is a lot of time and money spent making things simple, our latest microwave is not the recipient of such input though it was not a cheap model. They now spend money on simple signage for buildings, computer phone systems and emergency equipment. All to make using things as easy as possible. I know some of you have heard our tale of our stay in Oxford Prison (now and then a Hotel). Of course for us the fire alarm went off at 3:00am, I awoke and peered round our room and saw bars on the window and a prison door – all this accompanied by the sound reminiscent of cats falling down a well. Then the alarm softened and it began speaking. My first reaction was 'You have really lost it this time'. I realised however the fire alarm was telling us to leave by a specific stair well. It only gave this information. If didn't mention fire or shout 'dont panic', it told us we were leaving and we did.
As we come to Easter I think the world needs a simpler explanation for the importance of resurrection. One may think the meaning is well known but I am aware of peoples difficulties with the subject and how complicated many have made the whole thing. People know so little of the story of Jesus, they fail to know it asks for a response from individuals and they don't know how to access the fantastic offer of new life.
In pulpit and pew the ideas for saying something simple that people understand are lacking or confused generally. Some talk of redemption, salvation, eschatology (end times), rejuvenation. While someone else says its a myth, an allegory, an enigma. Can you imagine a big company having such confused message.
British Airways used to carry the strap line "We'll take more care of you". They didn't go on about aerodynamics, professionalism and quality they also didn't mention the fact that not everyone's bag makes the same journey as the passenger or the incident when a Jumbo jet scraped it's wing along the windows of an office block while heading for the runway. No, the message is simple and inviting.
In the weeks leading up to Easter I invite you to look at the Gospel accounts of Jesus speaking of his death, the accounts of crucifixion and then the resurrection accounts. What did Jesus say for himself about these events.
Here is a starter
"I am the resurrection and the life. Whoever believes in me, though he die, yet shall he live, and everyone who lives and believes in me shall never die. Do you believe this?" (John 11:25-26)
The best decision you'll ever make! – if you say yes to him
Perhaps we should just put up a sign saying " You'll have the time of your life in the next one – Apply within"
Happy Easter
Brian