Letters From Brian, Our previous Minister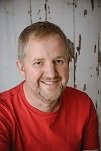 Recent copies of the letters from our previous Minister Brian. These are reproduced from the monthly Newsletter..
April 2022: From The Minister's Childhood



I have known quite a few people from Ukraine over the years. They have been friendly, warm, kind and hard working. A couple lived across the street when I was young. He was Ukrainian and she was Italian. They changed the neighbourhood with their laughter, cooking and their welcome to everyone who passed. Jeremy worked hard and went home on a regular basis; and rang home on a Sunday. This was back in the day when most us confined any call to three minutes unless the GPO sent the subscriber a huge bill. Jeremy was on the phone for ages. I have thought about him a lot the last few weeks as battle has rages in his homeland. I'm glad he didn't live to see this.

His countrymen have amazed and shamed us all. They have also reminded me of a characteristic Jeremy had plenty of, determination. On the eve of invasion the News said the people had faith in their military. It seemed a forlorn hope that anything could last a day in the face of Russia's might, but they have surprised everyone especially Mr Putin's 'special military operation' Not only that but nice ladies, smartly dressed, sat in the squares chatting and laughing while making Molotov cocktails. Others went with the rest of village, town or city to gear up for some gun practice for the first time. Yes, this is the church magazine and I have no time for those who love violence, guns or the likes of the NRA who have kept America armed to the teeth far too long. Ukraine is different; they are facing war, invasion, regime change and occupation. It's all the idea of one man, it usually is. Russia has invaded this young, brave nation and Ukraine will not give up as they did in Afghanistan. The Ukraine story shows immense courage, and we have all been moved by it. They have even repelled the invaders from a number of places.

It remains to be seen if they can hold on long enough in the face of what Russia could unleash. Sadly time ran out for a lovely family with young children who Orla Guerin interviewed yesterday for the BBC. A wonderful close family lived in an apartment block. There was a happy picture of Christmas in the home; and then a harrowing testimony of a mother. She was told by her husband and son to save her daughter and grandson. The apartment and the room where the men had just been standing was shelled by the Russians. The men pleaded with them not to come near. Her precious husband died cursing Putin. Her son suffered terribly and pleaded for death. All this in a family home in Europe in 2022. All this in a democratic country.

Seemingly one man's dream of rounding up the prodigal countries who cleared off from Mother Russia was his chosen legacy. His memory is certainly secure. Be careful what you wish for. His special military operation has failed to deliver the swoop to victory that people imagined. Most of it has been an embarrassment Putin did not understand his enemy and he didn't respect their leader, President Volodymyr Zelenskyy.

As we progress to Easter we can ponder our own failings and their affects on us and other people. I say this because in the horrific war in Ukraine it throws up a magnified picture of the faults and errors in all peoples lives, it also shows the good in so many people. It shows a chilling view of why people often don't want to help others, it shows our fears and the thought that some will get the better of us and enjoy doing it. But it also shows that sin damages those who practise them, it even brings them down (let's hope).

Easter has the most unexpected saviour in Jesus if people follow him. In a way, Zelenskyy has provided the modern parable. People didn't rate the former comedian but my word he has proved himself more of leader than any of the others currently available, people have followed him and kept faith in a victory over Putin. I pray they will find a resurrection of their very special land.

Lord, we pray for Ukraine. We pray for an end to the invasion and lasting peace. I ask for your prayers for those who are on the move as refugees, give them peace and a place to feel secure. We ask for strength for those who remain in the country; guard them and give them faith. We pray for those who were sent to deliver a doomed operation. We pray they would be kept from performing atrocities. We pray that at the end there would be no scorched earth departures. May war crimes be fully prosecuted to those who delivered or planned them

(Romans 8:38-39) For I am sure that neither death nor life, nor angels nor rulers, nor things present nor things to come, nor powers, nor height nor depth, nor anything else in all creation, will be able to separate us from the love of God in Christ Jesus our Lord.
Amen



A very Happy Easter to all of you
Sara Charlotte Emily and Flora
From Our Previous Minister, Brian
As we progress to Easter we can ponder our own failings and their affects on us and other people.