Letters From Brian, Our previous Minister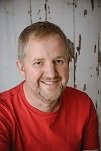 Recent copies of the letters from our previous Minister Brian. These are reproduced from the monthly Newsletter..
July 2019: From the Minster's Deckchair


We are fortunate to welcome many visitors to our area at this time of year and I wonder how we appear to those from other parts. This whole area is idyllic, wonderful scenery appears round every turn and the folk are so friendly. Now I am being sincere, there is nothing tongue in cheek about these comments but we all know that nothing is perfect in life. Every community, every street, even the churches have some flaw along the way. But when we look at someone else's patch we often think perfection has been discovered.

Let's face it we have all gone to visit a place and wondered 'what would it be like to live here'. Rosy coloured images soon crowd the mind and we fail to see any snags with a popular location. Without sounding inhospitable being in a tourist area can be rather trying when you need to pop out to the shops or get somewhere quickly. Years ago I lived in York for a gap year. Hordes of dawdling tourists on the city walls were a first rate nuisance when returning home at night. I don't wear it all the time but the dog collar is a good indication I might know where the Donkey Sanctuary is located, it would be impolite to say find a map. It doesn't mean to say I can't begin with a couple of stories about donkeys though

Wherever we live there is the privilege of welcoming those who come into our midst and I think our churches do this very well. But there is also the matter of being content with the place God has chosen to billet us. Our skills and graces may be just the right mix for Gods Kingdom on our home turf. We may never even see the difference we are making but they will be vital.

A few years ago a lady turned up with plans to move from her lifetime home to the South West. She wanted a change and some of the politics and characters were proving too much where she lived. We talked and I expected to see her within months. Soon a letter came saying she was going to stay put because that was the place where God needed her. I hope she has found blessing in looking at God's view of things and for offering something to others in love

For each of us there is a place and time to serve under God and it may be in wonderful surroundings, but it will have challenges and it will be hard on occasions but we are needed for the kingdom and our service can make a real difference

And anyway no one rests on earth with God. Not even in Paradise.

Best wishes

Brian
From Our Previous Minister, Brian
For each of us there is a place and time to serve under God ...