Ref:
Date:
Location:
Photographer:
From Our Minister's Work Station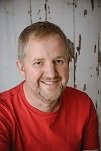 Recent copies of the minsters letters from our Minister Brian.
...more
01/08/15 From The Minister's Bunker
To my mind the seagulls are worse this year than in all the years I have lived here. It drives one of our number to absolute distraction. Windows are kept shut, woe to the world if the washing gets bombed and if anyone is seen feeding them, well.......... I think it's got worse in Sidmouth since the big hotels started using the hawks on the Esplanade. It's moved the problem inland. And now the chicks are starting to bounce around on their still forming wings it won't be long before they are down at ground level. When this happens the parents become vicious and I mean attackers of anything that seems a threat to 'junior'. I have been on their menu on several occasions. Once I visiting someone whose wife had just died. There wasn't a feather in sight when I went to the door of his bungalow but soon there was an air force of angry beaks inches from my face and catching my hair. The widower let me in without seeing who I was and it was a fight to keep the birds out. He had chicks on the roof and when it came time to leave it was a repeat performance I will never forget.
Now there are several chicks visible from the study so I think danger money or a hawk are called for. It of course goes with the territory living by the sea. Why on earth they have protected status is a mystery. Mercifully it is not a problem all the time.
We can become fixed on those things that bother us and it's not a healthy sign. I witnessed quite a row a few weeks ago near one of the schools when things got too much for a resident going against the tide of parents. Others find a relationship or an illness consumes their time and conversation and the latter is a real challenge for many souls.
Whatever bothers or worries reach of us we may find an example in St. Paul. "To keep me from becoming conceited because of these surpassingly great revelations, there was given me a thorn in my flesh, a messenger of Satan, to torment me. Three times I pleaded with the Lord to take it away from me. But he said to me, "My grace is sufficient for you, for my power is made perfect in weakness." (2 Corinthians 12:7 Paul struggles all his life with what he describes as a thorn in his side. He prays for a change of circumstance and a release from whatever was happening but as far as we know it was lifelong. Paul never actually says what the affliction was which means people have imagined their thorn to be his thorn.
No one wants suffering or irritations that drive them to distraction but patience and fortitude can come from adversity. We can let these same things rule us or becoming overwhelmed by them. Many afflictions even gulls just have to be lived with. God gives us grace, how much we offer to life's woes will make a lot of difference to how we cope. It will make a lot of difference to our state of mind
Anyway, I am just off to borrow the hawk.
Best wishes
Brian