Ref:
Date:
Location:
Photographer:
From Our Minister's Work Station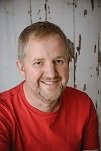 Recent copies of the minsters letters from our Minister Brian.
...more
01/12/13 From the Minister's Sickbed
"The annual remembrance of something 'baby related' is floating into view once more on a sea of alcohol, under clouds of strained good will and clinging to rafts of unwanted presents sinking under a weight of food" Wow that Weekend Columnist in a recent paper must have been feeling cynical about Christmas. The sad thing is I know what she means.
For many the wonderful message of God's love has been placed back stage while a curious tableau is assembled to block out the real meaning of CHRISTmas. The celebration with food, presents, cards, family and friends should amplify our joy in receiving God's love in Christ. But even Christians can be overwhelmed by these features of 'baby related' glee.
Each year the struggle to see the Nativity Scene increases for those who have not yet found faith. The 'keep it a bland secular holiday' brigade increase in their bold assertions that religion should be kept out of December. (I wonder who parked our wonderful Christmas Day on a pagan festival). I don't have the authority to move Christmas, and I don't want to move it.
When you look at the Christmas accounts in Matthew and Luke and marvel at the simplicity and lack of fanfare you can't help being moved by what happened. We are looking at a remarkable event and life moving in real time. Many ordinary details are recorded that we can saviour and consider. Wise men journey; shepherds leave their flocks and go back singing; a mother ponders what happens and a Saviour ministers to many years later. They are all 'baby related' events but if stay at the stable door we don't see the rest of the wonderful story. Today some can't get past the mushy adverts for department stores let alone hear a bady is related to Christmas.
So we should make the most of challenging those who only see the wrapping paper of the greatest present imaginable. We can do this at church with challenging publicity, a street-level Nativity Scene. Each of us can make invitations to friends to join our own celebrations here in church. That may not sound the most lively of campaigns but 'every little help's' where witness is concerned. It is the time when people are more likely to enter a church than any other period on the calendar. It can also be assisted with some brave invitations by us to our family and neigbours to come along to a service.
Anyone is welcome to join us in our 'baby related' celebration of someone called Jesus Christ, the Lord and Saviour of all people. He can make a wonderful day out of a period that will disappoint many because they have not observed that God has paid a call to this world.
May I and my family wish you all a very Happy Christmas
Best wishes
Brian, Sara, Charlotte, Emily and Flora