Ref:
Date:
Location:
Photographer:
From Our Minister's Work Station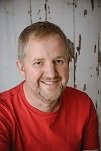 Recent copies of the minsters letters from our Minister Brian.
...more
28/07/13 From the Minister's garden
From the Minister's garden
The gardener has been today, sounds terrible grand doesn't it. Our lady comes about every six weeks and does what I don't get round to sorting. Chief of these jobs is the battle against the weeds particularly the bind weed. It was already rampant when we arrived and it still has the upper hand about the place and I fear I may not win with it.
Anyone who looks after a garden will know that weeds cause damage and have to be attended to constantly. They have to be pulled up, the bible speaks of such problems and in Hebrews speaks of the root of bitterness. "Make every effort to live in peace with all men and to be holy; without holiness no-one will ever see the Lord. See to it that no-one misses the peace of God and that no bitter root grows up to cause trouble and defile many" 12:14-15.
Maureen Greave today spoke of prayer and forgiveness for the two men who murdered her husband last Christmas in Sheffield. It was an amazing statement for two men who enacted the motiveless killing of her husband who was the organist at their church. It is a statement by which she will now have to live. It is also a declaration that will free her to live a life not festering with bitterness. It marks her out as someone who is serious about living the Gospel of Christ. Maureen is someone who has actually taken on board what Jesus says to all believers. "If you do not forgive men their sins, your Father will not forgive your sins" Matthew 6:15.
People who are bitter miss the grace of God and their nurtured chaos often spreads to others. How many people today are damaged by things that went wrong in their lives in the past that got ignored or worse festered away unresolved.
The weedkiller for this vicious root is forgiveness – gallons of the stuff. It is hard work and I am sure Maureen Greave didn't skip out of Court on a whim to do what she did today. She would have struggled before God and cried out to him I am sure. But what a witness and what a better life she will have because of her efforts and faith. I hope we all up hold her in our prayers.
In Ephesians Paul challenged others to sort themselves out in their disputes " Get rid of all bitterness, rage and anger, brawling and slander, along with every form of malice. Be kind and compassionate to one another, forgiving each other, just as in Christ God forgave you." 4:31-32
I wonder how long it took them to get to verse 32. Everyone needs to deal with these issues whenever they come along.
Anyway, have a great summer
Brian