Ref:
Date:
Location:
Photographer:
From Our Minister's Work Station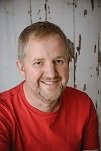 Recent copies of the minsters letters from our Minister Brian.
...more
31/01/13 Lenten observation is a choice
I didn't want you to miss out on the yearly reminder for Lent because I am on sabbatical, oh no! I couldn't rest knowing you had forgotten to be abstemious.
Lenten observation though is a choice, and some choose to have no part in a discipline leading up to Easter. That doesn't make them lesser beings, they are not in line for a half price heaven because they didn't read the Old Testament three times in Lent, they are not shunned by angels because they ate every meal available from Ash Wednesday up to Easter Sunday. It is a choice, but how often do we choose ease.
Those who do exercise a Lenten discipline may well wonder if it's doing them any good, particularly if they have chosen something a bit steep. Some things can make one so bad tempered and not fit to know that family, friends and church may beg you to break the commitment. Learning to play the bagpipes may just be a discipline too far.
And then come the pious soles with an agenda. It's not unknown for a few to use Lent for a work of piety that can be broadcast, a spiritual limelight that is intended to impress. Now that is a waste of time. Jesus was never impressed by such activity and it can be quite extreme. I don't think any of you would come near to that error of judgement. But we can be tempted to tell others what we are doing.
Hopefully, if we decide to follow a Lenten practise we learn something about ourselves, perhaps the act of sacrifice reveals a thought that God needs more room in our life. We may realise that discipline is a forgotten art. We may simply find that the practise has left us satisfied because God blessed our offering to him.
Could Lent be a greater experience of faith this year if you brought just one simple gift to God during forty days and nights. There has been much talk this year of giving up alcohol for Lent to mark a stand against the 'binge drinking' culture. This is not an issue for some in the church as they signed the pledge years ago but for others it would note a difference to the pre-Easter journey that we are all asked to make. It would provide a saving to give to a charity. Whatever you do and I hope you choose something to mark Lent that you notice. I hope you find it helpful and feel that you have regarded the suffering of Jesus even in some small measure.
Happy Easter when it comes
Best wishes
Brian