Ref:
Date:
Location:
Photographer:
From Our Minister's Work Station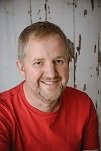 Recent copies of the minsters letters from our Minister Brian.
...more
30/06/12 The London 2012 Olympic games kick off (I am showing my ignorance already)
The London 2012 Olympic games kick off (I am showing my ignorance already) in just a few weeks time. It doesn't seem two minutes since a very surprised group of people stood in Trafalgar Square as the news broke that the games were not going to Paris. Cynicism has poured from some quarters on the project but one cannot help be impressed with the planning, delivery and readiness of such a venture. Oh yes, the tickets were not the sparkling event that they should have been but if that is the only hitch we can be very pleased.
The idea of the Olympics is something we should commend with ideas of friendship and nations coming together and the test of human endurance. The inclusion of the Para Olympics at recent games has heightened that sense of achievement and excellence that really does lift the spirit.
The Church has been part of the games for many years now with Christians offering hospitality to athletes families; greeting people at airports and railway stations and being stewards. They have also provided the water stations for crowds and athletes at the Marathons. Christians have also made a witness to those attending the games and invitation to services for those visiting from elsewhere have brought people together. Much prayer accompanies this event and I ask all of you to pray for the games, especially it's safe keeping in these troubled times.
Now at this point it would be easy and predictable to speak of Paul pressing on towards the goal and running straight races etc. But it's to Job that that I want to look. Chapter 23:10-12. "But he knows the way that I take; when he has tested me, I will come forth as gold. My feet have closely followed his steps; I have kept to his way without turning aside. I have not departed from the commands of his lips; I have treasured the words of his mouth more than my daily bread."
I should point out that this rousing call to follow God comes in the midst of Job trying to keep his faith and tell his friends he has not asked for his woes. Job knows only too well that life can be hard, but in God he can succeed. Job's desire is to follow his will and not be distracted. This is someone who appreciates Gods word more than his own diet. Now whether we look to Paul or Job we are faced with a big question – are we pursuing God's goal or are we outside the stadium.
None of the athletes at the games get there by thinking I am too busy. They have been dedicated, disciplined and sacrificed a lot. They may not go home with anything. But they have set themselves to the task they are ready to be tested. Our test is not one race but the rest of our life and like Job we need focus on coming forth as gold. No gets a medal for being a Christian but the rewards are out of this world.
Brian