Letters From Brian, Our previous Minister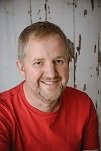 Recent copies of the letters from our previous Minister Brian. These are reproduced from the monthly Newsletter..
July 2022: The Good News Slot


Let's start with not so promising news. A few years back I heard that friends had been asking a brave question at their church council's or AGM's. It had provided plenty of conversation and a platform for some positive input to lift the spirit. I used it in a couple of churches and my friends were correct, excellent results, new plans and lifted spirits.

I did the same thing at another church a while later, disaster! Nine months later the question still cast a shadow over the fellowship. It took the wind out of their sails and I thought "you've really done it now".

Good News: Several years went by and they recovered. Church Weekends, Breaking News (faith and news items) and a midweek coffee service were all successes along with new house groups and NineThree0 (our at home prayer meeting at 9.30 Sunday Morning).

So when an outside agency made a negative comment that could have been applied to half the churches in Britain about their church the Congregation was not quite so panicked or accepting of the criticism.

Three lock downs later and the church is pulling together and has restarted its activities and it is making progress. It also changed the mid week service and coffee event into a coffee and chat. It is designed to provide a safe space for those who lost confidence in lock down to speak to people. It's working well and every week we put more tables out. Steve is part of the Team and as well as the chat he has helped people with their mobile phone problems. We are thinking how best to provide a devotion during the time. We did one at Easter which was well received.

The Question that didn't work here was this. Do you think this church will still be meeting in five years time.? Eleven years and counting since that rocky evening. God has lead, fed and encouraged those who looked up to him. Sometimes it's only when we look back we see the difference He has made.

Ephesians 2:8-9 "For by grace you have been saved through faith. And this is not your own doing; it is the gift of God, not a result of works, so that no one may boast".

Proverbs 19:21 Many are the plans in the mind of a man, but it is the purpose of the Lord that will stand.



Best Wishes

Brian
From Our Previous Minister, Brian
Three lock downs later and the church is pulling together ...