Ref:
Date:
Location:
Photographer:
From Our Minister's Work Station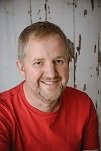 Recent copies of the minsters letters from our Minister Brian.
...more
April 2018 From the Minister's Igloo
It's been an interesting few weeks really - my daughters complain each year because snow doesn't come to Sidmouth. As a result half term saw us in Finland where there was plenty of snow and it was wonderful. Two weeks later we did have snow in Sidmouth and on the beach. Two weeks after that more snow over the weekend again.
For some it was a major inconvenience and worry for others it was a thing of pleasure. I am sure for some of you it was a time of isolation and concern. Schools closed, church services were cancelled or preachers changed and local radio loved every minute of it.
I was fortunate enough to get out the first time and take a few pictures and it was an interesting experience. People started talking to each other, many visited elderly neighbours to make sure they were all right (some do this every day but these were new visitors). There was a wartime spirit about the place and most of the people down on the seafront, possible all of us lived locally. This busy town suddenly felt small and intimate. Any guests seemed to be holed up in the hotels wondering how they were going to get home. There was a silence about the place and the sense of witnessing something very special.
Later tales of kindness and quick thinking filled the media; the 'farmy army' (wish I'd come up with that title) went to work to clear roads and transport essential services. People with four wheel drives made them available to hospitals and people who could not get home, I know several people who were helped. Hotel and hospital staff walked miles to work, some slept over. Care agencies in this town did a tremendous job getting round to their clients and the meal companies had left a number of products in advance of the 'fun'.
When the snow cleared everything went back to normal. And one thought could some of that concern and kindness for others be made a regular thing. Why did conversation come in the midst of a blizzard but be less noticeable on a sunny day.
Perhaps the snow gave people time to notice each other; to explore a changed landscape. Perhaps we found time to be human when sport, shopping and business were removed from the picture. Even if you found the whole thing terrible I am sure you gave time to notice the changed world in which lived. It brought out the child in many of us. Best of all, it didn't over stay its welcome.
Someone said to me in the first few hours, 'it looks like heaven' . I knew what he meant. It certainly matched some of the images Hollywood has dreamt up. It gave us a different view of our world; a beauty and solemnity was present. We saw others in a different light. We wanted to share the moment with others and put aside our usual activity.
I could go on to make analogies with seeing things in a new light, or finding peace or understanding. I could speak more of community or inclusion. I could make a connection with the joy of resurrection (seeing the world cleansed by Christ)
But some things are best given our own interpretation and thought but whatever we think a little more kindness and conversation would bless many. Who knows we may get another chance before summer.
Brian